Mobile App
About :
Zero Codes App Builder is a platform to create apps in a very simple way, you do not need to know how to program, we take care of that, you simply have to choose the functions of your app and add them with a simple interface.
Product Or Services:
We Make it Easy to Connect With Users On Every Platform
Our platform allows you to create apps for any device for both Android and iOS. Moreover, if you have a website you can easily integrate it into your apps with a simple button, so your users can access your services from any platform.

About :
Are you looking for an online milk management system? Get it with Milk delivery solutions. This app will help to boost your business. Contact us now +91-8725013695
Product Or Services:
Dairy Products Delivery App
Address:
7th Floor, SEBIZ Square Building,
Sector-67, IT Park Mohali, Punjab, INDIA

160062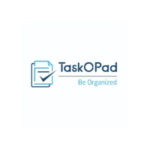 About :
TaskOPad is an end-to-end task management software and app that aims bring all your daily work and tasks on one platform thereby helping stay on the top of things and making you more productive!


Address:
A-201, Sankalp Iconic Tower Near Iscon Cross Road, Ambli – Bopal Rd
380058